Gaming Spotlight: Rocket League – The Success Story
Posted by EsportsGaming
January 10, 2020 in
In this months spotlight, I take a look at Psyonix's smash-hit game Rocket League.  A game that stems back from the Playstation 3 days to listening to the feedback of its fanbase and creating a game that deservedly earned its place in the esports universe, so strap in and let's check out how Rocket League became the phenomena that it is today.
Supersonic Acrobatic Rocket-Powered Cars:
That's a mouthful, right? After all, this is where it all began for Psyonix and Rocket League. Released back in late 2008 for the US and early 2009 for the rest of the world, this game was ambitious  with a campaign mode being made up of numerous mini-games and tournaments which were all played against AI.
The game allowed you to connect with friends locally and online, with one simple goal; score more goals than your opponent in 5 minutes.
Going back to its single-player campaign mode had some enjoyable and challenging scenarios from going up against teams where you were outnumbered, scoring as many goals within a time limit, with my favourite defending your goal whilst a cannon fired balls at you which you had to stop!
Whilst available on the Playstation Network, the game was downloaded over two million times (at the time of writing this I have not been able to gather official sales of the game). Nevertheless, this game laid serious foundations as a predecessor for Rocket League.
The work begins…slowly:
Psyonix announced that they were developing the game around 2011; finding funding to self publish was proving to be very difficult and current publishers showed very little interest in their game.  Naturally, this meant that the game was as far from completion as it could be.
Persistence paid off though and with a budget of less than $2 million the team set to work and began creating the game. Using all the feedback from fans and testers alike Psyonix released more details about the game in September 2013 and announced a free alpha version would soon be available to testing and improvements on PC.
One of their biggest aims was to increase the games frame rate from 30 frames-per-second to 60 (this had been one of the most common criticisms of Battle-Cars). Some original plan included making the game as immersive as it could be, by adding the ability for the player to drive from stadium to stadium in an open world format, but this was scratched and so they decided to strip the game to is very core elements and focus more on the main surroundings to enhance the gameplay and title.
The game was beginning to come together; the had team listened, and it showed. It became clear they were on to a winner but they didn't allow themselves to be carried away by this.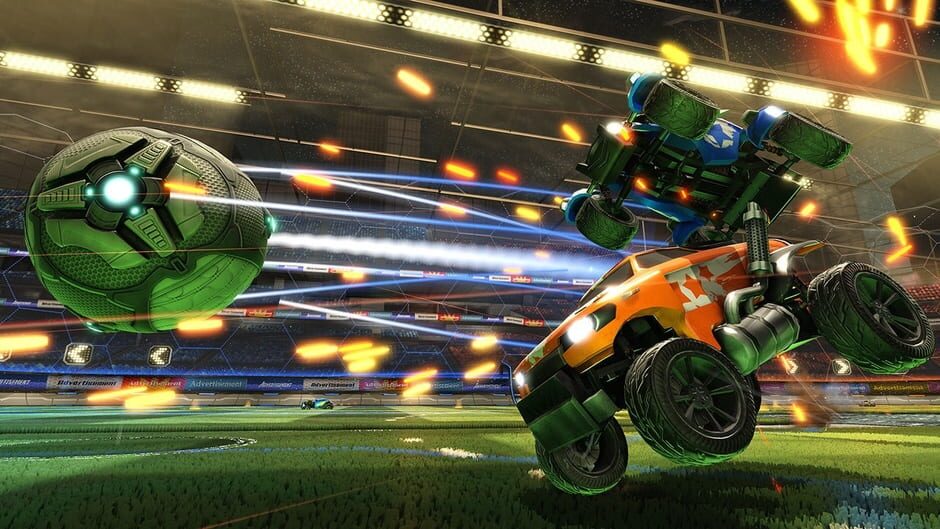 Marketing wasn't going to be easy:
The marketing strategy for "Battle-Cars" had not been the greatest and so they knew they had to get things right this time.  Psyonix launched a massive marketing campaign through social media and varied other promotions but their best move lay in what they did next.
The game was offered as a "free" game for all PlayStation Plus members, a stroke of genius.  As the game needed the biggest launch possible and with a tight budget, they made a conscious decision to give the game away for free in the hope that word of mouth alone would come to their rescue. Soon after, the praise was coming in and it was high. Notably, the critical acclaim stemmed from the massive improvements built on from Battle-Cars to where Rocket League was.
There was at one point a decision to make the game free to play with microtransactions (think along the lines of Team Fortress 2 style), thankfully they chose not to and went with the usual sales method with only cosmetic elements being available through downloadable content (DLC).
Come July 2015 and Rocket League was released on both Windows and PS4, by June 2016 the Xbox One its version, with macOS and Switch having their respective releases shortly after. The road to success was well and truly theirs for the taking and the figures speak for themselves:
12 million unique downloads from PlayStation Plus.
$6.2 million sales were made on all platforms, after 1st year
5.5 million DLC purchases.
over 1 million copies had been sold on steam, by the end of 2015 that rose to 8 million downloads.
$110 million in revenue with 40% being made up of sales through PlayStation 4 and the rest being shared through other versions.
Sony also confirmed that Rocket League was the most downloaded game of 2016 and at the start of 2018 the number of players reached 40 million, with this increasing 50 million by September 2018.
Linking with their DLC with other game and movie releases was also a testament to their increased marketing and fanbase as new game modes and cosmetic items launched to mostly happy gamers. With their ever-increasing popularity, it was little wonder that Rocket League was one of the leading games to endorse and encourage cross-platform-playability, with both Xbox One and Nintendo Switch becoming a part of the family.
Psyonix's patience paid off and by January 2019 cross-platform play was granted by Sony, meaning that Rocket League could be played between all consoles and PC versions.
Joining the
Esports Universe:
Psyonix journey to greatness was far from over and soon they took notice of the popularity Rocket League was getting on Twitch as well as other streaming platforms.  By February of 2016, they wanted to break into esports. So, just two months later, they became officially sponsored as an esport joining ESL.
It didn't take long for Major League Gaming to get in on the action either because by September 2015 they announced their first-ever rocket league season with a prize fund of $75,000. In 2016, Psyonix held the inaugural Rocket League Championship Series with a prize fund of $55,000. With more than $1 million in revenue from the sale of in-game crates and cosmetic items, Psyonix was able to fund additional competitive events throughout the year, this included events at conventions and community-led events.
Turner Sports also organized a $150,000 ELEAGUE Cup event for eight teams, being broadcast live on streaming media, alongside a three-part series which documented some of the teams' road to the Cup with match highlights and results, which aired on "TBS" later that month.
To this day the Rocket League Championship Series continues with the introduction of South American teams into the competition. The current season sees world champions Renault Vitality defending their title, which has been taking place from October through to December in Madrid.
And the Golden Joystick goes to…:
Since 2015 the rewards have not stopped coming in for Rocket League and Psyonix.
From its early days at E3 2015, where it took home the PlayStation Universe's "Best Sports Game of E3 and Gaming Trend's "Best Multiplayer Game of E3", it picked up the Best Design at the Game Developers Choice Awards in 2016.  They also took home three BAFTA Game awards in the Multiplayer, Sports and Family categories.
During the 2016 D.I.C.E awards Rocket League also picked up the award for Sports Game of the Year, Outstanding Achievement for Online Gameplay, and the D.I.C.E. Sprite Award. Most recently in 2019 Rocket League won the "Still Playing" award at the Golden Joystick Awards.
The final word:
To think that Rocket League comes from humble beginnings to where it now sits is a phenomenal achievement in its own right.  Their strategy from day one has been on point and it was a bold move to practically give the game away for free in the hope that it would make some sort of profit.
The high octane energy generated from dominating an opponent, to the sound of the klaxon after losing in the dying seconds of added time means that there will always be a place for Rocket League and its popularity.  It comes as no surprise to see that the Championship Series is now into its 8th Season and still going strong; it's a game well enjoyed here by the Esports Wales team.
This game shows that taking risks can have huge reward;s all you need to do is dare to be great, something Psyonix did from the offset. In closing, if you have yet to play this game believe me when I say "get out there and grab it" you won't regret it after all is football, hockey and basketball with cars, what more could you ask for?